Hey Longhorn Nation, As the temperature rises, it's crucial to ensure our little ones stay hydrated and safe during recess and P.E. Classes/Athletics. Please remember to send your children to school with their water bottles to beat the heat and stay refreshed! Thank you and have a fantastic day!

Thank you to the Texas Farm Bureau Insurance and the Buena Vista PTO for supplying lunch today to honor our teachers. #TeacherAppreciation #WeLoveOurTeachers #ALLIN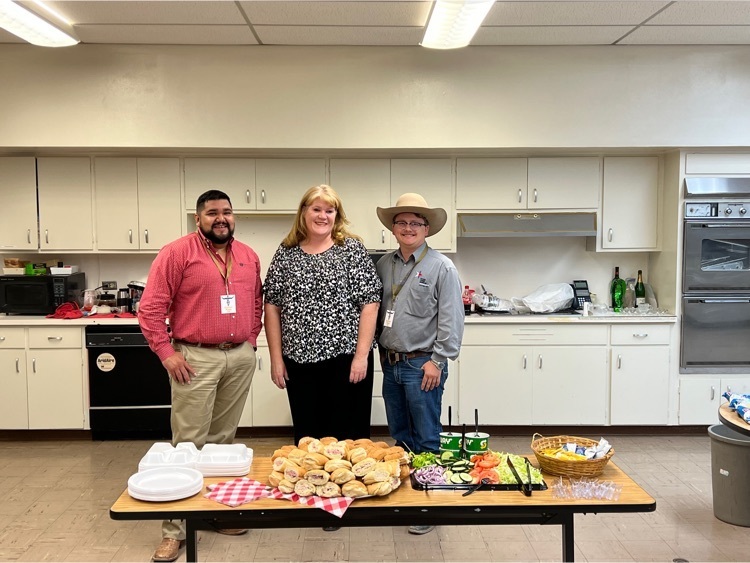 Reminder: Athletic Banquet is tonight @ 6:30 - 8:30 The High School Academic Awards Assembly has been moved to Thursday 5/11 @ 10 AM.

Here is the link for field day shirts. Orders were extended to midnight tonight for those who may have missed it.
https://gogearup.io/bv-fd23
Jh District Tennis Results Girls singles 4th place Hanna Hendricks Girls Doubles 1st place Andrea Garcia & Italia Cortez   Boys singles 4th place Alex Sanchez 3rd place Wyatt Ivey 1st place Luke Fierro Boys Doubles 2nd place Gio Colunga & Tyler Rogers 1st place Froyd Malagon & Ezra Jackson Mixed Doubles 2nd place Cris Sanchez & Diamond Salazar 1st place Shawn Perkins & Kimber Alford Boys and Girls District Champions Congratulations. Good Job.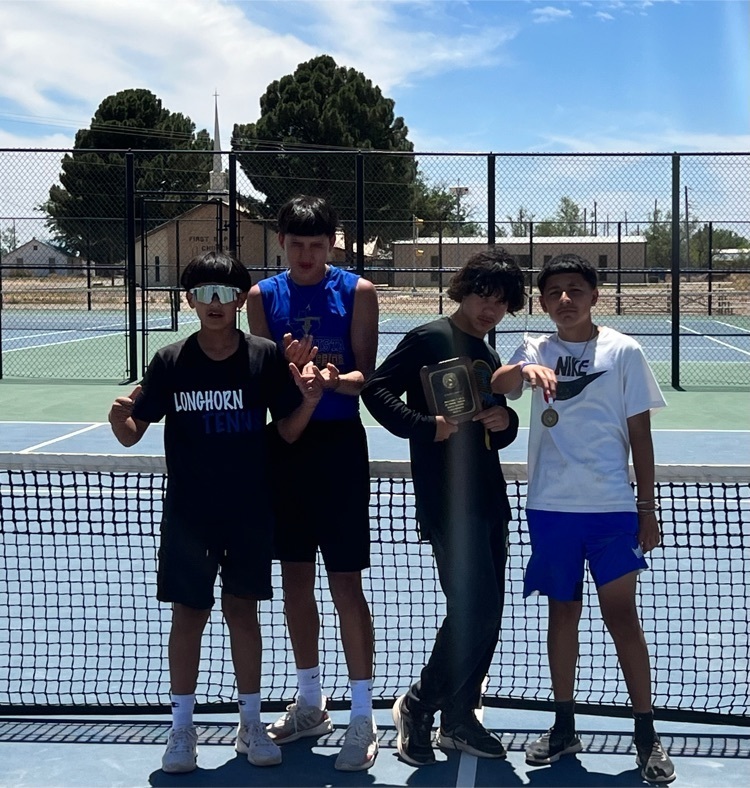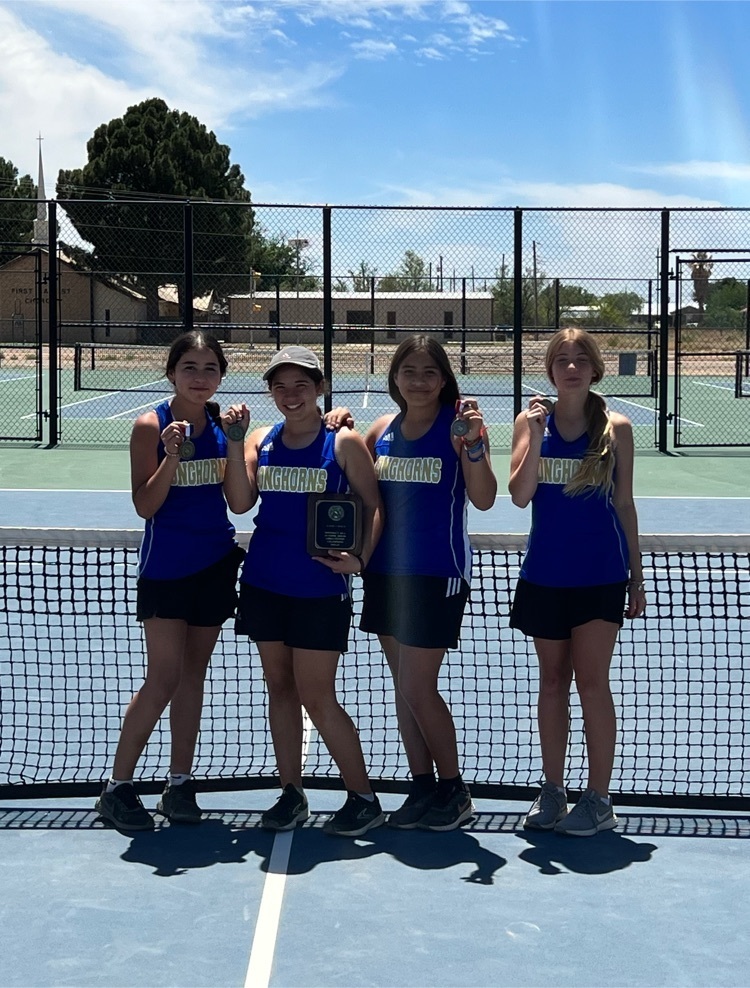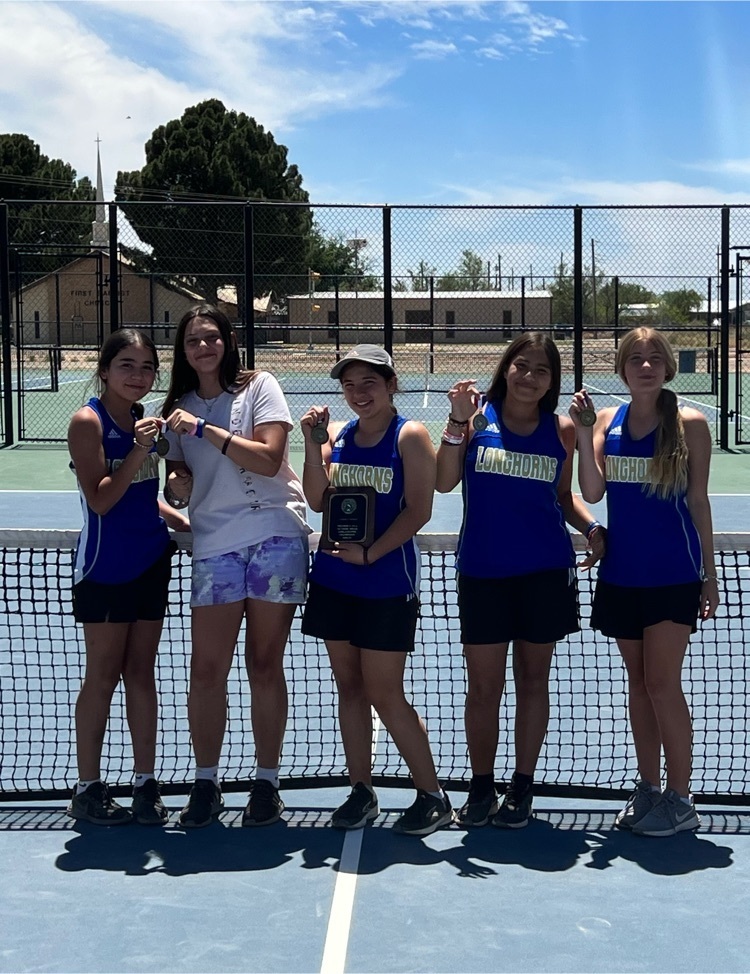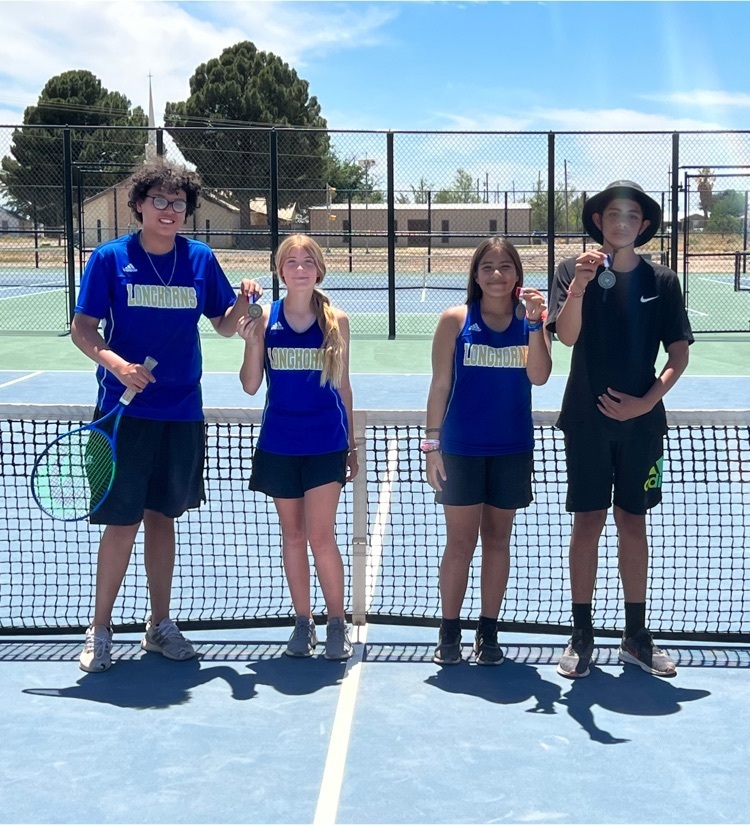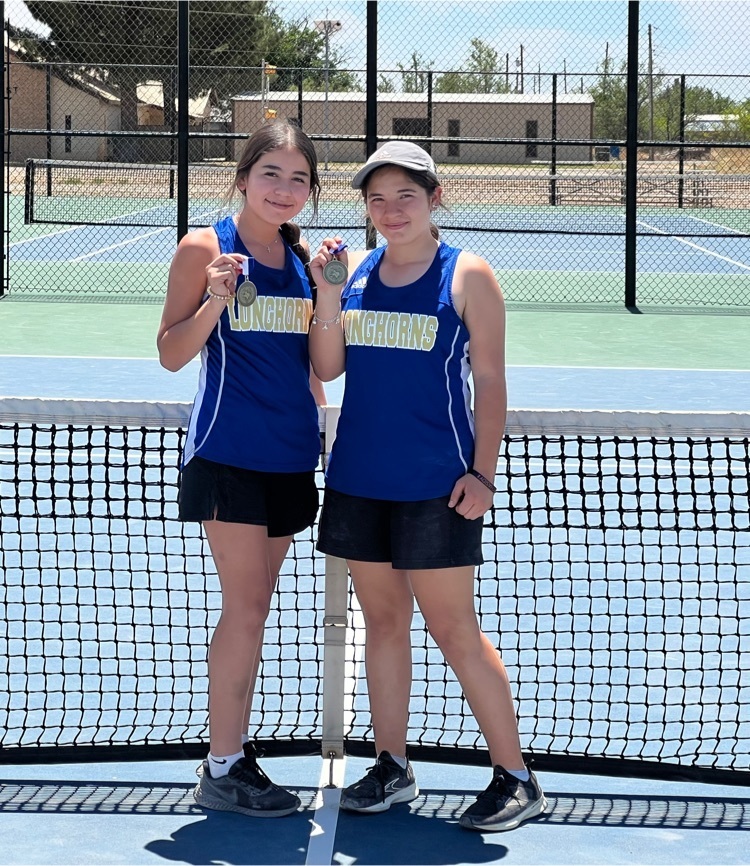 Hey Longhorn Nation, As our year is coming to a close, we would like to recognize our seniors and their accomplishments as they walk out our doors as graduates. The Lindsey Horton Memorial Scholarship would like to recognize and award Clarissa Martinez a scholarship for her future studies at Angelo State University.
https://youtu.be/nzPP4Pryh2E
Cactus Clinic will be onsite at BV on May 18th @ 9am to conduct required athletic physicals for the 2023-24 school year. Forms were handed out today to most students required to undergo a physical. This form MUST be completed, on the "medical history" side, by a guardian, prior to the 18th, to be eligible to receive a physical exam. There is a $10 cash fee for each physical. If your student does not participate in this physical exam, it will be the responsibility of the student's guardian to ensure the student undergoes a physical exam prior to any athletic participation for the 2023-24 school year. If you need another copy of the physical exam form, please visit
www.BVISD.net
under the departments tab, and select "Athletic department" to print form. All current 5th, 6th, 8th and 10th grade students, all new students, and the returning students with a prior concussion or serious injury MUST have a physical to participate in athletics next year. Thank you Cactus Clinic estará en BV el 18 de mayo a las 9 a.m. para realizar los exámenes físicos deportivos requeridos para el año escolar 2023-24. Los formularios fueron entregados hoy a los estudiantes que deben someterse a un examen físico. Este formulario debe ser completado, en el lado del "historial médico", por un tutor, antes del día 18, para ser elegible para recibir un examen físico. Hay una tarifa en efectivo de $10 por cada examen físico. Si su estudiante no participa en este examen físico, será responsabilidad del tutor del estudiante asegurarse de que el estudiante se someta a un examen físico antes de cualquier participación atlética para el año escolar 2023-24. Si necesita otra copia del formulario de examen físico, visite
www.BVISD.net
en la sección de departamentos y seleccione "Departamento deportivo" para imprimir el formulario.

It is official Longhorn Nation! Kiele qualified for state track in the high jump! We will do a state send off Thursday May 11th at 1:00 PM. She will compete Saturday morning May 13th! Great job Kiele, Longhorn Nation knows you will represent!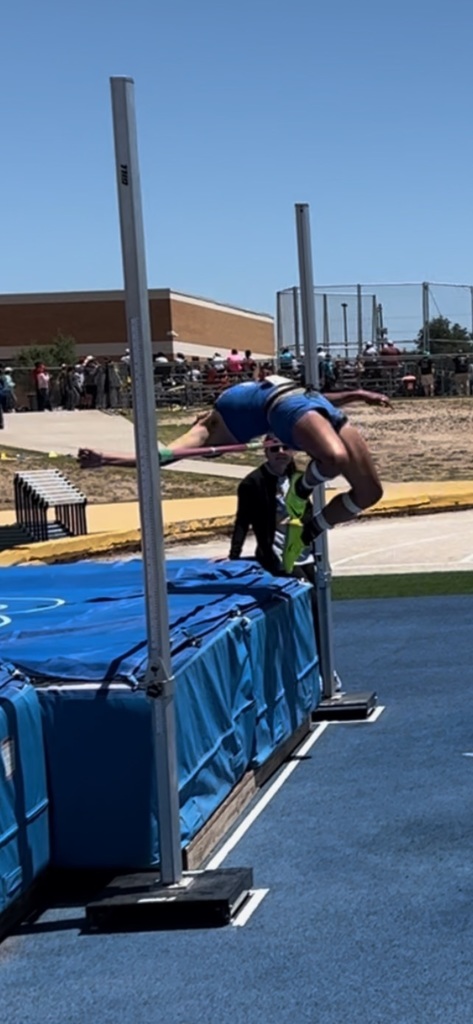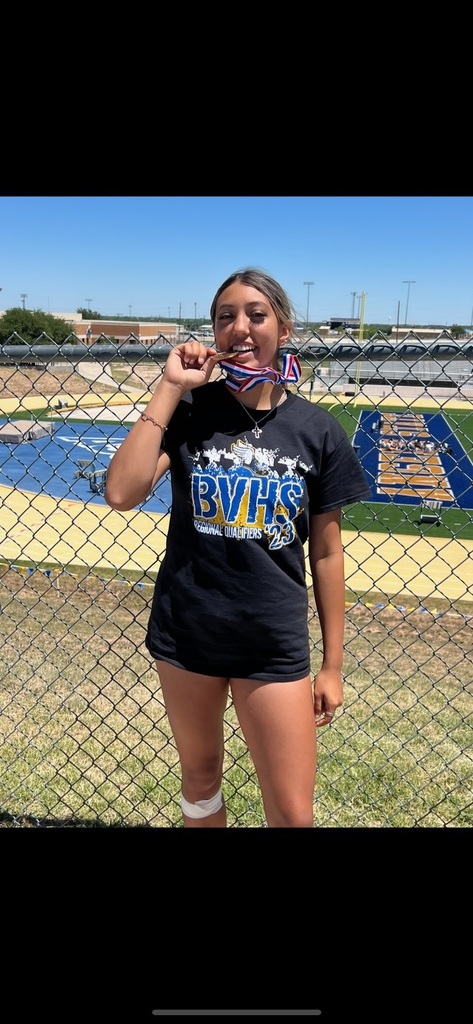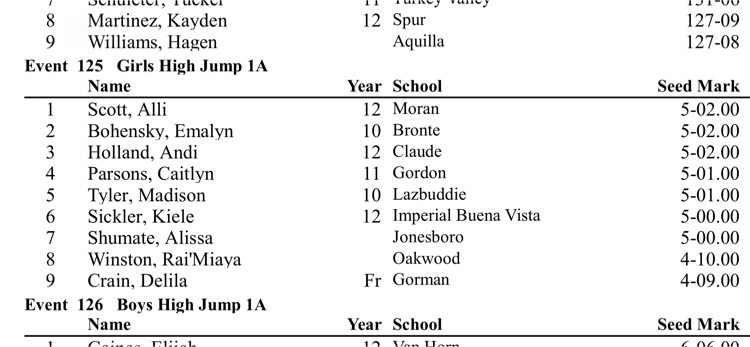 The Imperial Public Library is proud to once again present a Summer Reading Program. We encourage all age groups to read and enjoy the many benefits of the library over the summer. The theme for this year is, "All Together Now." Starting June 21, 2023 and ending July 26, 2023. Every Wednesday from 10 a.m. - 12 Noon. For More info call 432-536-2236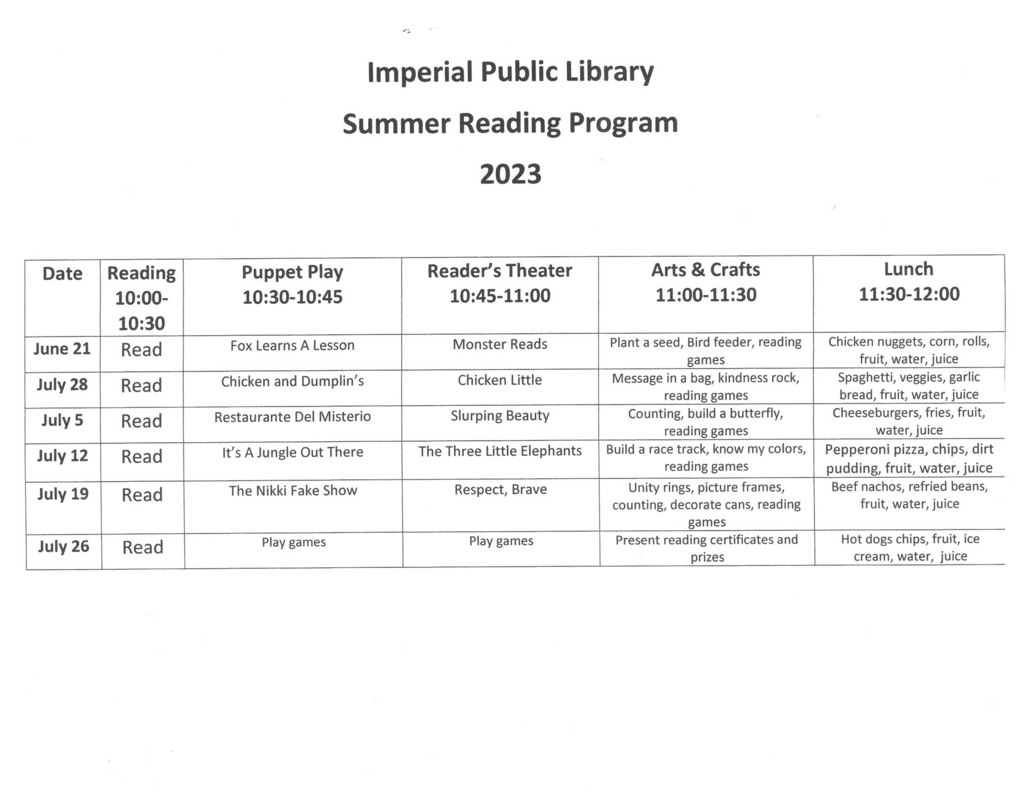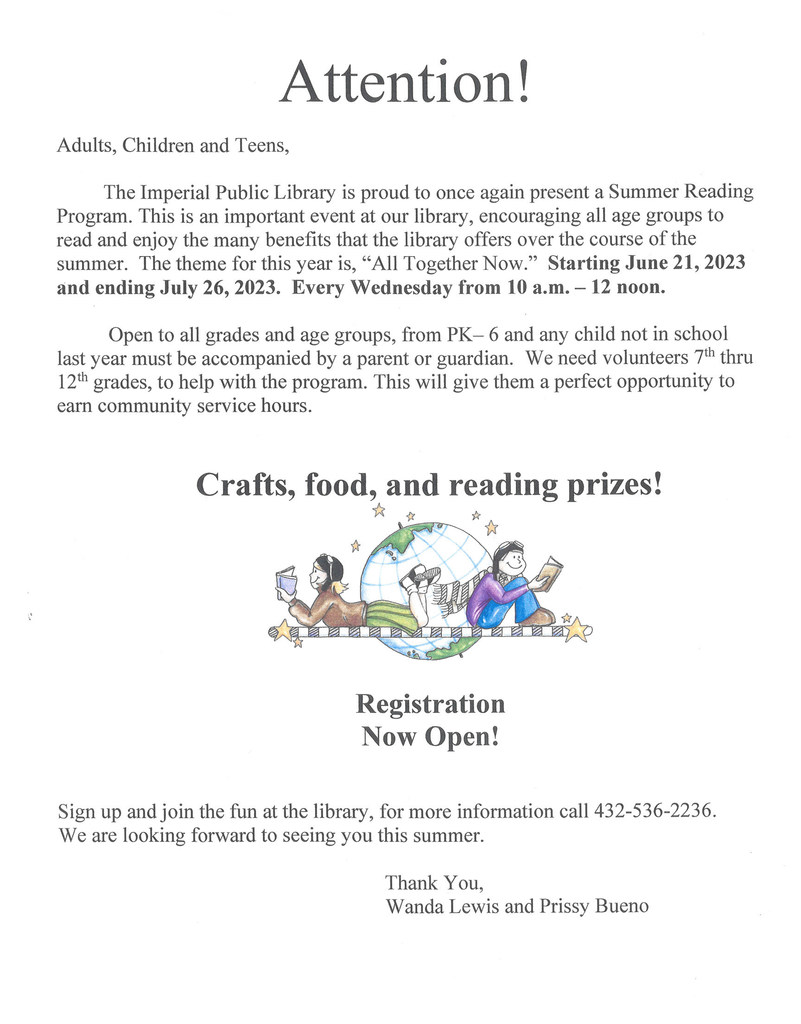 State Spelling Shirts See the following for an opportunity to support our State Spelling Team!! Follow the link or scan the QR code to get to the store.
https://gogearup.io/bv-UILst23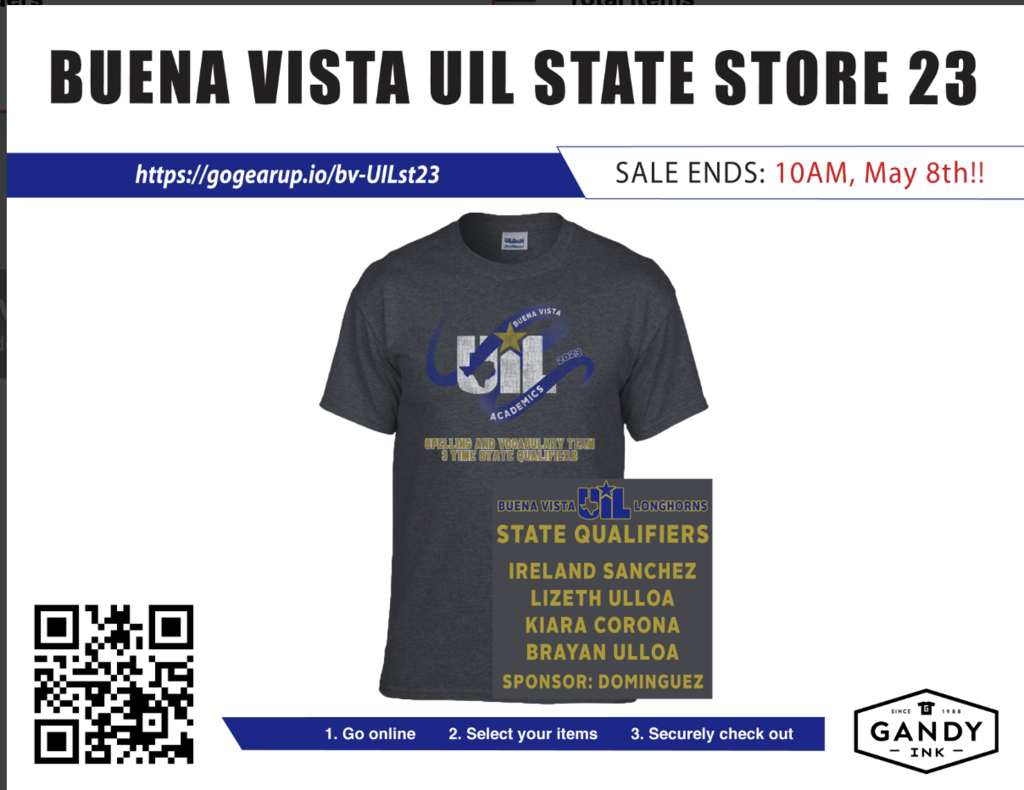 The High School Athletics Awards Ceremony will be Tuesday (5/9) at 6:30 in the auditorium. Hope to see you there.
Congratulations to Genova and Gabby in the 1600m. Gabby placed 3rd overall in the Regional Meet. Good Job.
Gabby placed 6th in the 800m and the boys 4x200 team, made up of Jadyn, Brendon, Alexander, and Sebastian, placed 4th. Good Job.
Congratulations to Brendon, who competed in triple jump and Kiele, who placed 3rd in high jump, at the Regional Track Meet. Good Job.
Congratulations to Clarissa, Brendon, and Alexander. Clarissa competed in disc and Brendon competed in high jump at the Regional Meet. Alexander competed in long jump and placed 5th overall. Good Job.
The boys 4x200 relay will compete in the finals today in the Regional Track Meet. Good Job and Keep Grinding. The boys 4x100 relay, team made up of Jadyn, Marcus, Sebastian, and Alexander, the girls 4x400 relay, team made up of Ireland, Kiele, Milli, and Kiara, and the boys 4x400 relay, team made up of Jadyn, Brendon, Marcus, and Alexander, all competed in the Regional Track Meet. Congratulations to all you athletes.
Congratulations to Crystal who competed in the Regional Track Meet in pole Vault. Good Job.
Congratulations to Gabby, who placed 3rd, and Ireland who placed 8th, in the 3200m run in the Regional Track Meet. Good Job.

Due to the power outage this morning we postponed testing until tomorrow. Thank you for your understanding. #ALLIN